---
"Abducted by North Korea ~ Megumi,13 Years Old ~"
This movie tells of the tragic fact that a 13-year-old girl who has grown up happily in an ordinary family was suddenly abducted, and tells of parent's earnest entreaties that they get back their beloved daughter. We would like you to see that it is quite a detestable atrocity and has been unsolved still now since 1977. We hope you would lend a hand so that the parents could hear the voice of their daughter's "I'm home!".


---
"North Korea Kidnapped My Daughter"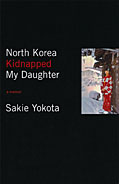 On November 15, 1977, 13 year-old Megumi Yokota disappeared without a trace while on her way home from school.
Twenty years later a newspaper revealed she was abducted by North Korean operatives and was still in North Korea.
North Korea Kidnapped My Daughter is Sakie Yokota's memoir of the last 30 years without her daughter.
Her resounding faith is inspirational as is her unfaltering determination to repatriate Megumi.
Mrs. Yokota vividly recounts the horrifying panic when Megumi went missing and the entire ordeal of her daughter's absence. (from Amazon.com)
---
Request for Donations
Asagao-no-kai is a volunteer group, organized in May-2003 by the neighbourhood of Yokota family. We have been supporting the parents' earnest entreaties of getting their daughter, Megumi back from North Korea. Our activities are mainly to hold photograph exhibitions and producce DVD. etc and these activities are supported by contributions of well-meaning people. We hope that, with an understanding of the meaning of our activities, you will provide us support by making donations so that we will be able to continue the activities. Your warm contributions shall be greatly appreciated by us. Thank you.
[Bank Transfer]
You can use following bank information for transferring your donation.
| | | |
| --- | --- | --- |
| | Bank Name | : Japan Post Bank |
| | Branch Code | : 028 |
| | Account No | : 9670647 |
| | Swift Code | : JPPSJPJ1 |
| | Bank Address | : 1-3-2 Kasumigaseki, Chiyoda-ku, Tokyo 100-8798, JAPAN |
| | Account Name | : Mr.Tadashi Tajima, a representative of Asagao |
***About the voucher of your payment (Receipt)
We send it to the person who requests for the receipt.
Please inform us of the name, the address, the ZIP code and the e-mail address
when you make remittance.